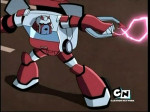 Prototype Ratchet Magnets:
The items show in this album are a second round prototype for the magnets in our upcoming accessory pack #6! The final version will differ in a number of ways

(for the better)

, but here's a close up look at an earlier stage of what is soon to come.
It's been a long time since we've shown off any

our own

alterations handywork. TFA Ratchet, along with pretty much every other TFA toy has an amazingly show accurate head sculpt, only it seems to lack the proper paint to back it up. I've repainted the head of this toy, sanded down the post on his forearm so his EMP generator will stay attached, and (last but not least) added show accurate magnets. I hope you like.